Join
Duties:

The Order is an active organization.
Members are expected to regularly contribute both their

time

and

financial resources

to support the charitable work of the Order.

Members should attend (to the best of their abilities) all functions and meetings of the Order
Members should participate in the charitable and humanitarian work of our Order in a personal, professional, and/or financial capacity
Members should promote interest in the Order's aims and recommend worthy candidates
Members are required to pay a yearly obligation to the Order
Main Objectives:
The defense and propagation of faith and the improvement of the relationship between Churches and Houses of Worship
The formation of a spiritual elite, vigorously promoting (without distinction of race or creed)

The dignity and worth of the human being
The ideal of peace in the observance of human rights
The practice of works of charity and humanity
The OOSJ is a religious, lay, military, chivalric and noble Order.
The OOSJ is registered as a charitable organization.
True to Divine Commandments, the Knights and Dames will profess the virtues of charity and fraternity, practice the works of mercy, help the sick and suffering, the refugees, the exiled and immigrants, the homeless, the abandoned and orphaned children, the poor, and the aged by assisting them both materially and spiritually.
To this end, members will be called upon to render such physical, medical, spiritual, legal and/or other services when necessary to support the objectives of the Order.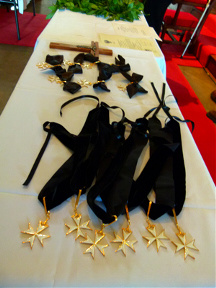 Membership Qualifications:

All persons of good faith and exemplary life are permitted to join the Order in one of its categories of membership. There are categories for adults, youths, and clergy.
Membership is by nomimation and invitation only.
Investiture:
The Investiture is a religious or honorary service at a special place, usually a cathedral or church, conducted according to procedures traditional to the Order.
How to Join:

If you are interested in membership, please communicate your desire to the Headquarters of the Order for additional information.
Knights of the Orthodox Order of Saint John Russian Grand Priory
39 Parkway East
Mt. Vernon, NY 10552
United States of America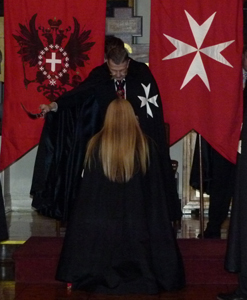 How to Support:

Donations may be sent to the above address above. The OOSJ-RGP is a fully qualified charitable organization under IRS section 501(c)3. Contributions are deductible, please consult with your accountant or tax professional regarding the deductible amount of contributions.